Our team has advised on over:
Life Science Transactions
---
Billion in M&A Transactions
---
---

Collaboration with AstraZeneca to develop and commercialize Anticalin-based inhaled treatments for respiratory diseases.

Under the Menarini, Auxilium and Sanofi agreements, avanafil is expected to be commercialized in over 100 countries worldwide.

One of the largest licensing deals to date solely for European rights to a drug candidate.

Medivation was developing enzalutamide, a novel, oral anti-androgen drug candidate for prostate cancer.
---

The asset acquisition supplemented Vertex's pipeline portfolio of cystic fibrosis assets in development.

Sale of a privately held, venture-backed, GI company with strong early commercial traction.

Sale of privately held, specialty pharmaceutical company with FDA-approved orphan drug for early stage mycosis fungoides.

Aquilo introduced Pfizer and NextWave, and assisted NextWave in evaluating and negotiating the option and merger agreement.
---

TerSera Therapeutics entered into an agreement with AstraZeneca for the commercial rights to Zoladex in the US and Canada.

Ophthalmic eyewear lenses is the largest business unit in HOYA's Life Care segment.
Buyside representation of Medivation on the in-licensing of an anti-PD-1 immune modulatory monoclonal antibody from CureTech Ltd.

Buyside representation on the acquisition of leading global manufacturer and supplier of active pharmaceutical ingredients.
---

Funding for pivotal study and FDA approval for novel cystoscopic device that has the potential to improve bladder function in OAB patients.

Late-stage precision medicine company developing dalcetrapib to be the first genetically targeted medicine in cardiovascular disease.

Funding will be used immediately to fund OMNI's growth initiatives, including expansion of OMNI's hip and knee product lines.

One of the largest licensing deals to date solely for European rights to a drug candidate.
---
---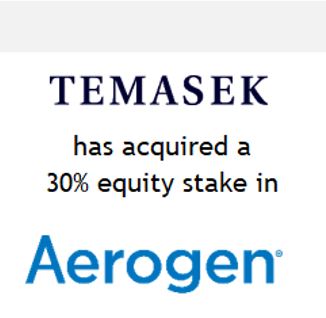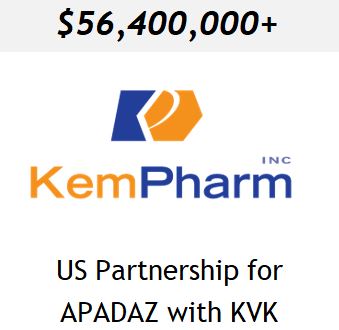 Aquilo represented KemPharm in its partnership with KVK to commercialize APADAZ.


Sema4 aims to revolutionize clinical diagnostics by combining comprehensive screening and diagnostic testing.

Aquilo served as Cerulean's sole financial advisor and provided a Fairness Opinion in regards to the transaction with Dare.

Aquilo Partners acted as a financial advisor to Essentialis in the merger with Capnia.

Aquilo Partners acted as financial advisor to VIVUS in the license agreement of STENDRA.

Sale of a privately held company with advanced tools for massively parallel single cell genetic analysis.

For each share of common stock, DARA shareholders will receive 0.272 shares of Midatech stock and a CVR.

Aquilo worked closely with the senior management of Allegro on valuation and structuring of the strategic investment.

Aquilo worked closely with Egalet management in identifying SPRIX®.

Aquilo worked closely with the Aciex management team and Board of Directors and also provided advice on deal process.

Aquilo managed a competitive process with multiple interested parties and assisted Alverix in evaluating and executing the merger.

Under the terms of the agreement, VIVUS is eligible to receive up to $61 million in upfront payments, regulatory and sales milestones.

Placement Agent for Xlumena's $25 million Series C financing.

The Menarini Group is the leading Italian pharmaceutical company in the world with over 125 years of history.

Eclipse's lead compound ET101 is aimed at an undisclosed CSC target which is over-expressed on most solid tumors.

Sell-side representation of Topaz in competitive process with multiple bidders.

Funding will be used to provide growth capital to continue expansion into untapped markets and enhance focus on customers globally.

Financing of specialty pharmaceutical company focused on cardiovascular and CNS diseases.

Buy-side representation of Luitpold in competitive process for the privately held ROXRO PHARMA, Inc.

Blue Heron has developed the industry's most advanced gene synthesis technology.

Buy-side representation of Luitpold in competitive process for the privately held PharmaForce.

Several AGI-developed tests ready for market launch by Clarient at time of the transaction close.

Commercial stage company with significant pain franchise from recently launched Zipsor and NDA filed Lysteda.

Aquilo helped ARIUS evaluate multiple strategic options, from single product licensing deals to broad platform deals to a full acquisition of the company.

Lipomics has developed clinical diagnostic tools with an emphasis on high-density lipoprotein metabolism, diabetes, weight loss and inflammation.

Open Biosystems is a provider of RNA interference (RNAi), gene expression, and protein detection products for life science research.

Complete Genomics completed IPO in November 2010 and was acquired by BGI in March 2013.

Acquisition financing by private equity firm.
Gene Logic's Genomics Division included a biorepository with toxicogenomic, pharmacogenomic and clinical databases.

Aquilo managed a global distribution effort and built a diverse syndicate of investors comprised of a large US hedge fund.

Sale of company focused on robotic systems and automation solutions for diagnostic testing and biomedical research processes.

QuatRx selected Aquilo Partners to help it with a last private round after withdrawing its registration statement for an IPO.

Term sheet received one month after initiation of financing.

Closing of private placement concurrent with acquisition of regional clinical laboratory.

Specialty biopharmaceutical company with commercial-stage product Myobloc® is indicated for patients with cervical dystonia.

Aerovance is a company that is focused on the development of biologics for respiratory and inflammatory diseases.

Aquilo worked with management, board and shareholders to deliver maximum value to all parties.

Multiple term sheets including large and small companies as well as potential investors.

Aquilo worked with the company to successfully position Cellomics as a market leader in the high-content cellular-analysis field.

Aquilo worked with the company to secure multiple term sheets and increase the size of the transaction from $40 million due to demand.
Aquilo worked closely with the founder and majority shareholder to explore liquidity alternatives.

Aquilo served as exclusive placement agent, owning and driving the transaction process to a close.

Applied Imaging is a leading supplier of automated imaging and image analysis systems for genetics and cancer applications.
---